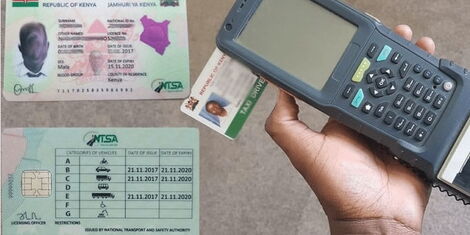 The National Transport and Safety Authority (NTSA) on Thursday, October 22, announced new dates on which Kenyans can apply for the new smart driving license.
In collaboration with Huduma Kenya, citizens will be able to make their applications at Huduma Centres across the counties detailed below on October 24 and 25.
1.GPO Nairobi (October 24)
2.Machakos (October 24)
3.Nakuru (October 24
4.Kisii (October 24)
5.Kerugoya (October 24 & 25)
"In order to serve you better, this Saturday, October 24, the following Huduma Center's will be open for Smart Driving License services from 8.00 a.m. to 3.00 p.m," the institution stated.
Features of the New NTSA Smart Driving license
Some of the features to expect in the new generation driving license, include the following.
Your car ownership details such as your car's number plate, your logbook details, among others will be integrated into the Smart DL.
2. If you are fined for a traffic offense, the new driving license will make it possible for you to pay up the fines through it, since the card will come bundled with an electronic wallet.
3. The Smart DL will enable potential employers to access your driving records, especially where your driving ability is important to the job.
4. Your driving record will be available to insurers. It is expected that your driving profile will play a role in the determination of the premiums a driver should pay.
5. The cumulative point system will be used to reward or punish you are a driver based on their behaviour on the road. If you hit a certain lower threshold, you will be legally barred from driving until the points are renewed again, after a set period.